Categories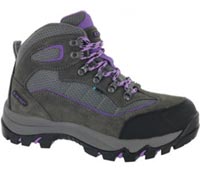 Need to keep on trekking? Smith & Edwards needs you to hike on down to pick up a new pair. We're lucky to be located right next to the Rocky Mountains' breathtaking hikes & views - so we know what brands you can rely on, including Under Armour, Hi-Tec, and Merrell. We've got what you need for the trail: women's trail running shoes, low-profile hiking boots, and ankle boots for steep terrain. We also carry sandals & everyday ladies' shoes from Skechers.
View Products
Discover beautiful yet durable women's cowgirl boots for all occasions! Are you a conservative boot wearer or like something a little more daring? Do you like a low shaft and heel like a roper, or do you prefer something higher? Do you opt for round toes, square, or snipped? You'll find a wide variety of styles from simple classics to intricate detailing. Your move. What ya gonna choose?
Every style for barrel racing, bareback bronc riding, or team roping. Or maybe you just need something to match your favorite outfit? Trust Smith & Edwards to equip you with the best boots from Ariat, Justin, and Tony Lama.
Nothing finishes an outfit like women's western boots. Whether you are seeking a simple sophistication or want to go fun and funky, let your cowgirl boots do the talking! Check out the impressive collection of gorgeous boots, some featuring wing tips, perfed saddles, intricate inlays, detailed stitching, and more. You're going to like what you see.
We want you to be thrilled with the women's cowboy boots you choose. That's why we carry brands that we wear, know, love, and trust. Justin Boots have been handcrafting since 1879 and have a passion for their trade. They use top quality materials and technology to make their boots some of the best. Tony Lama has been perfecting their boots since the 1930's. A commitment to quality, craftsmanship, ingenuity, and fashion make their boots stand out against the rest. You'll love the way you feel.
View Products
Products