Footwear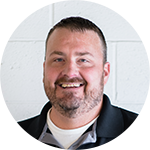 Brian joined us in 2017 when we opened the West Jordan store. We're grateful for the experience and knowledge he brings to our team as he orders western boots and work boots for our valued customers. Shop the selection of great leather boots for weddings and special occasions, rodeo, work, and just every day. Brian guarantees you'll find something you love.
Brian Hulce

Boots Buyer
Choose from men's work boots as well as Smith and Edwards' huge selection of Western boots for all ages. You'll even find boot accessories and grips for your new boots.
When it comes to running shoes and athletic footwear, you'll find brands you love like Reebok, Red Wing, Skechers, and Saucony here at Smith and Edwards.
And if you're looking for boots, choose from warm, waterproof hunting boots, rugged and durable work boots, and cowgirl and cowboy boots as authentic or as fashion-forward as you desire.
We try our best to ensure you receive the shoe or boot that fits your feet, but if you need a different size, send it back and we'll find you one that fits! Click here to read our easy return policy.
Categories
Products