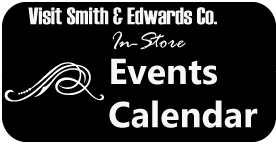 Check out our Events Calendar to find out the great in-store demos, freshly-cooked samples, and classes available at Smith & Edwards. We've always got something on the schedule that your whole family will enjoy!
Click to see our Store Calendar!

Giveaways at Smith & Edwards
You can win great items from Smith & Edwards' favorite brands and vendors... we've even given away SHOPPING SPREES!
Click to see current giveaways and winners.
Smith & Edwards is the big fun store in a little town in Utah.
Town or country, Smith and Edwards is here with hard-to-find goods and tools that will make your life more satisfying. Arguably Utah's biggest general store, we've been known as "The Country Boy Store" here in northern Utah for over 60 years. Generations have loved visiting our Ogden store for our great customer service, our just-perfect gifts and gear, and our expertise. We don't just sell the outdoors lifestyle - we live it, too!
Smith & Edwards started as an army surplus store back in 1947, and we've kept growing since, thanks to our employees, vendors, and your support - the Northern Utah community. Now, we've got over 100 employees, over 200,000 cool products (that we know of), plus the famous Yard - and we're known as Ogden's best Sporting Goods store. Thank you for voting us Indie Ogden's Best Local Gear Shop 3 years running!
Not only camping and hiking gear: we make a lot of our Western tack right here in our workshop, and our canning and kitchen department is a big favorite. We've even got a full hardware store inside - we've been an Ace Hardware member since 1979.
Shop for you, the family, your home, and your horse all in one place, at the family-owned store you and your neighbors have trusted since 1947.
Click here to read the history of Smith and Edwards.
"We've got anything you need... if we can find it!"