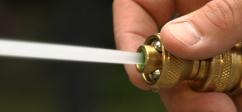 Check out our Events Calendar to find out the great in-store demos, freshly-cooked samples, and classes available at Smith & Edwards. We've always got something on the schedule that your whole family will enjoy!
Welcome to Smith & Edwards!
Town or country, Smith and Edwards is here with hard-to-find goods and tools that will make your life more satisfying. Arguably Utah's biggest general store, we've been known as "The Country Boy Store" here in northern Utah for over 60 years. Generations have loved visiting our Ogden store for our great customer service, our just-perfect gifts and gear, and our expertise. We don't just sell the outdoors lifestyle - we live it, too!
Browse the online Smith and Edwards store, which has nowhere near everything you could find in the store by Willard Bay, Utah - we're still finding everything! We promise fast shipping and a great experience - and the widest selection of sporting goods and useful things you'll wonder how you lived without, as well as great gifts, right here. We've even got a full hardware store inside, since we're an Ace Hardware member.
Keep checking back - we're adding new items daily!
Get the Smith & Edwards shopping experience at home, without the drive. You'll get to see everything we offer! (As soon as we find it)
Shop for you, the family, your home, and your horse all in one place, at the family-owned store you and your neighbors have trusted since 1947.