Tear-Aid Vinyl Repair Patch Kit Type B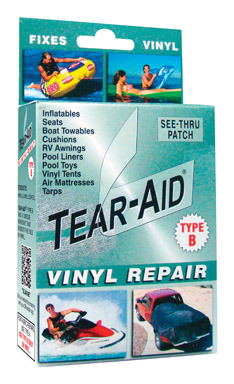 Works on all dry vinyl
Just peel and stick
Airtight, watertight, elastic stretch composition
Won't discolor with time
No messy liquids
High bond strength
Great in temperatures from -20° to +190°
Can apply underwater on smooth non-textured vinyl surface
Includes: 3" x 12" patch, 7/8" x 7/8" patch, 1 3/8" x 1 3/8" patch, 12" reinforcement filament for repairing tears at edges, 2 alcohol prep pads, illustrated instructions, and product repair list
Manufacturer

TEAREPAIR INC

Brand

TEAR-AID
Product Details
Product Weight: 0.10 LB
Shipping Dimensions: 0.50" x 3.75" x 2.00"
ADDITIONAL INFORMATION
Repairing rips and holes in your vinyl is a breeze with Tear-Aid's unique and easy-to-use repair kit. Type B vinyl patches have a new adhesive that resists the oils in vinyl that cause other adhesives to soften and turn gummy in the sunlight. These are see-thru, tough, flexible, airtight, watertight, puncture resistant, non-coloring, and industrial strength. They give superior protection against abrasion, moisture, saltwater, UV rays, and extreme temperatures. Works well on vinyl inflatables, seats, boat toys, cushions, RV awnings, pool liners, tents, air mattresses, and tarps.

Tear-Aid has 2 main repair kits: fabric and vinyl. Type B just means it is for vinyl and Type A is for fabric.