All-American® 15.5 Quart Pressure Canner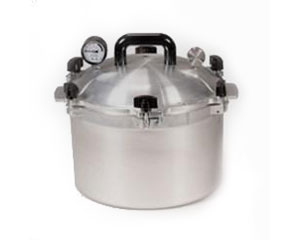 Will hold 10 pint jars or 7 quart jars
15-1/2 quart liquid capacity
Stay-cool Bakelite top handle
Steam gauge and pressure regulator with 5, 10, and 15 psi settings
Includ
Product Details
Product Weight: 20.68 LB
Shipping Dimensions: 13.75" x 14.00" x 15.25"
ADDITIONAL INFORMATION
The All-American name is famous in the pressure canning world. With this model, you'll get a heavy-duty cast aluminum body that will last for generations. An ideal cooker/canner for canning meat, poultry, and vegetables, although it's not recommended for canning fish. Great for jam, fruit, and pickles, too!

Part of the unique All-American design is the metal-to-metal seal - no rubber gasket to keep track of, clean, or replace. The lid clamps down for a tight seal. This is a great pot for pressure cooking larger amounts of food. Made in USA.

Caution: Not recommended for use on glass top or flat ranges, because the weight may cause harm to glass or ceramic surfaces.