Tents, Stakes & Bivvys
The smell of fresh pine and a campfire call out your name. With each season the great outdoors drives the longing for adventure. Why not answer the call and gear up for that outdoor excursion with a name brand, high quality tent! You'll find all top brands like Coleman, Browning, and Pacific Crest.
Whether it's a romantic getaway in Yellowstone for 2 or a family trip to the Uinta Mountains, you'll find the perfect tent for your trip. Let the sounds of a night in the mountains play a lullaby to your adventurous ears and enjoy your personal space without the walls of the office dragging you down.
You'll find a great selection of outdoor camping supplies all in one place! From cozy sleeping bags for a night under the stars or bags and packs for endless summer trails and trekking. You are sure to cross off every item on your list and with a few clicks you are ready to head to the great outdoors and off to a great adventure!
Categories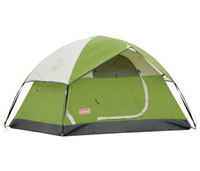 The great outdoors beckon, so seek shelter in a new tent. Smith and Edwards carries many different camping tents that can accommodate two to six people. Brands like Coleman, Kelty, Slumberjack, and Browning.
View Products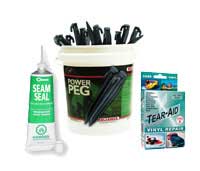 Mother nature can be unpredictable, gear up and be prepared for any outdoor situation with great products that will keep you warm and dry. You'll find a great selection of waterproofing supplies that are great to keep on hand and compact enough to store in a pack or saddle bag.
Nothing is more frustrating than setting up your tent and finding tears or leaks. When you are on an outdoor adventure, spending all your time exploring and answering the call for adventure is important. Tear-Aid Repair Patch Kits are easy to apply and have no messy liquids and high bond strength. They are perfect for a fast and easy solution so you can be on your way.
Keep your tent looking great with extra tent poles and stakes. You can find extra tent accessories that are great to keep in your camping supplies and prepare you for any situation. With great waterproofing and repair kits, you'll be ever prepared as you journey into any adventure that calls your name. Shop our selection of camping tents and self inflating pads that are durable and perfect for any outdoor enthusiast.
View Products
Products