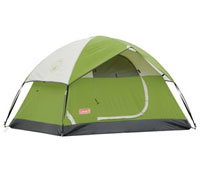 Tents, Stakes, & Bivvys
Featured Products
Tents, Stakes, & Bivvys
The smell of fresh pine and a campfire call out your name. With each season the great outdoors drives the longing for adventure. Why not answer the call and gear up for that outdoor excursion with a name brand, high quality tent! You'll find all top brands like Coleman, Browning, and Pacific Crest.
Whether it's a romantic getaway in Yellowstone for 2 or a family trip to the Uinta Mountains, you'll find the perfect tent for your trip. Let the sounds of a night in the mountains play a lullaby to your adventurous ears and enjoy your personal space without the walls of the office dragging you down.
You'll find a great selection of outdoor camping supplies all in one place! From cozy sleeping bags for a night under the stars or bags and packs for endless summer trails and trekking. You are sure to cross off every item on your list and with a few clicks you are ready to head to the great outdoors and off to a great adventure!