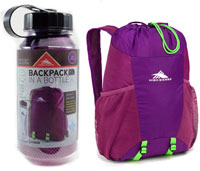 Hiking Packs, Duffles, & Bags
Featured Products
Hiking Packs, Duffles, & Bags
The road winds and the vast mountain range is on the horizon. With brands names such as Kelty and Jansport and high quality bags and packs, you can find exactly what fits your style to cross that rough terrain.
As you explore the great trails and make memories, fanny packs and compression sacks make organizing your gear a little more easier. Compression sacks make a great way to store basics and make more room with side straps and buckles and they make a good place to throw wet swimsuits or dirty clothes. Keep your camera or trail hiking goodies by your side with a good fanny pack for those spontaneous adventures.
The ultimate adventure begins with the right gear and a perfect addition to your long road ahead is a good night's sleep. You'll find sleeping bags and lightweight tents that coordinate with the hike, so you arenít a pack mule but an adventurer with the right supplies that arenít weighing you down.