Scout Stove Package
Small: Ideal for pyramid tents or small wall tents where space is limited.
Hunter Stove Package
Medium: Our most popular stove--just the right size, weight and heat output for the average camp.
Outfitter Stove Package
Large: The camp cook's favorite. Perfect for base camp and extra cold conditions.
Cylinder Stove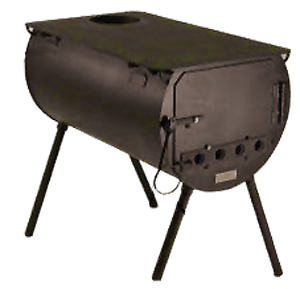 16" L x 10-1/2" W x 9" H, 20" tall with legs
Volume: .7 cubic feet
4" stovepipe hole
Designed for tents up to 10' x 12'
Holds heat for 6-7 hours
Included: stove and legs only
24" L x 14" W x 11" H, 22" tall with legs
Volume: 1.6 cubic feet
4 or 5" stovepipe hole
Designed for tents 10' x 12' to 14' x 16'
Holds heat for 8-9 hours
Included: stove and legs only
28" L x 6" W x 13" H, 23-1/2" tall with legs
Volume: 2.5 cubic feet
5" stovepipe hole
Designed for tents 14' x 16' to 16' x 20'
Holds heat for 10-11 hours
Included: stove and legs only