You'll love our fast shipping - our shipping department's the best in the West!
We ship to US addresses via USPS, FedEx, and FedEx SmartPost (fulfilled by the USPS Post Office). Shipping is calculated based on weight and shipping location, and we offer great flat rates for lightweight orders, under 10 pounds. Sorry, we do not ship outside the US at this time.
Frequently Asked Questions
Q. Do I have to pay sales tax?
Yes - but only if you live in Utah. We collect a 6.85% sales tax on Utah orders.
Q. Is there a handling fee?
Nope!
Q. What if part of my order is out-of-stock?
We're sorry if that happens! We will either call you or send you an email using the email address on your account to notify you if an item is out of stock on your order. We'll also credit you back the amount, and adjust the shipping cost if applicable.
If you would like to receive an email notification when an item is back in stock, please email help@smithandedwards.com or place the item on your Wishlist.

Q. What days do you ship?
We ship Monday through Friday, excluding holidays. Orders placed after Friday noon will go out on Monday.
Under normal circumstances, all orders go out within 2 business days. In fact, if you order by noon Mountain Time, we'll try our hardest to get your package shipped out that day!
Q. How do I return an item?
Returns are easy at Smith and Edwards. Please click here for our Return Policy, as well as step-by-step instructions for requesting a Return or an Exchange.
Q. How long will it take to get my order?
You can choose from several levels of shipping at checkout. Here's a map representing FedEx Ground shipping speeds:
FedEx Ground Shipping Speeds: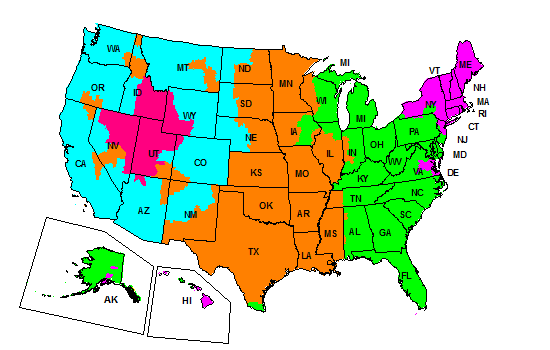 Pink = 1-day; Cyan = 2-day; Orange = 3-day; Green = 4-day; Purple = 5-day
You can choose great-priced Flat Rate shipping for packages under 3 pounds. We'll choose the best carrier for the flat rate shipping.
| | | |
| --- | --- | --- |
| Up to 1 pound: | Up to 5 pounds | Up to 10 pounds |
| $5.95 | $9.95 | $14.95 |
On orders over 10 pounds, you can choose from the following carriers:
Smith and Edwards is teaming up with FedEx to give you the shipping options you need at great rates, plus emailed tracking numbers to check in on your shipment along the way. You'll get to choose from the various options to ensure your order is delivered when and how you need it.
By selecting FedEx SmartPost® you are using the most economical means of shipping by utilizing the efficiency of two renowned parcel carriers: the United States Post Service and FedEx. Your order will be delivered between 2 and 7 business days within the contiguous United States after Smith and Edwards has processed your order.
Another well used method is FedEx Home Delivery®. Your choice for shipping packages you want a sooner. Home Delivery gets your shipment to your door within 1 to 5 business days and more customization for when you want it delivered.
If you are too excited or just can't wait for slower methods, try the express options. FedEx 2Day® delivers your order within 2 business days by 8 p.m., or use FedEx Standard Overnight® which is delivered by the next business days by 8 p.m.
In our effort to provide you with the best online experience, we offer you many shipping options including services by the USPS. Get your order sooner by selecting Priority Mail® or Express Mail®. By selecting Priority Mail® your order will be delivered between 1 to 3 days after it has been received by the post office. Most orders outside of Utah have 2 day delivery. Please click here to view the estimated delivery to your area by putting 84404 in the zip code.
Need it even faster? Priority Mail Express® may be the option for you. After it is received by the Post Office, it should be delivered to most U.S. locations within 1 day. And we'll make sure it gets to the Post Office, post-haste.
More questions? Email us or call 801-731-1120, Monday - Saturday, 10am - 6pm Mountain Time.