Family-owned for 3 generations, we've been serving our Utah friends & neighbors since 1947. Now, let's get you the gear and goodies you need for your home, horse, and outdoor adventures.
Farr West, Utah
Smith & Edwards - Ogden Location
CELEBRATING 70 YEARS! 1947 - 2017
Phone: 801-731-1120
Hours: Monday-Saturday 9:00am-6:00pm
Closed Sundays & major holidays
3936 N. 2000 W. • Ogden, Utah 84404
Exit 351 off I-15
West Jordan, Utah
Smith & Edwards - Salt Lake City Location
NOW OPEN!
Phone: 801-432-8370
Hours: Monday-Saturday 9:00am-8:00pm
Closed Sundays & major holidays
9010 S. Redwood Road • West Jordan, Utah 84088
Exit 295 off I-15
Online Shopping Questions
Our online store is open year-round, rain or shine, with orders typically shipping out within 2 business days.
Q. Can I cancel or change my order?
Yes - give us a call right away at 801-731-1120 and we will help you as best we can. You can email help@smithandedwards.com if our store is closed. We make every effort to ship orders out by noon Monday through Friday.
Q. How does shipping work?
We ship via UPS and USPS, aiming to have your package out our doors 1 business day after your order's placed. Please check out our Shipping Information for all the details.
Q. Do you have Gift Cards?
Yes, we offer gift cards to our Ogden, Utah store. Send your friends or family a one-size-fits-all ticket to the best store on Earth! Click here to pick a gift card.
Gift cards are non-refundable and are only redeemable in-store in Ogden, Utah.
Q. I know you have _____________ but I don't see them on your website?
It's very possible! We've got a HUGE selection in-store in Farr West. Everyone knows that. We've got everything you need... if we can find it! Give us a call and ask us: 801-731-1120.
We're putting many of our products online for you to buy from your computer at home - please be patient as we make them available. Keep checking back, we're adding listings daily. We appreciate you asking!
Layaway (In-Store Only)
Most items can be placed on layaway for 90 days with a deposit of 20%. Sale and seasonal items such as winter apparel may not qualify or may be limited to 30 days. As with any contract, terms and conditions apply. Please contact the Service Center or department manager about the specifics of the item you would like to layaway.
Click here to see more in-store only offers!
Gift Registry
Where else can both the Bride AND Groom get excited about a wedding registry? Smith & Edwards offers a fun and easy way to receive all the gifts you really want and need; not to mention the stress you will save your friends and family. We offer personalized service via our in-house registry consultants. Plus, you'll receive a $20 credit to your registry account, courtesy of Smith and Edwards, just for opening an account!
So come in, have fun, and pick out what you really would like to receive. We'll also provide "We're registered at Smith & Edwards!" cards for you to include in your event invitations.
Call Smith and Edwards today at 801-731-1120 to see how to set up your own personal gift registry. Registry forms shown below are avaialble at the Customer Service Desk. Just fill it out and return to get started!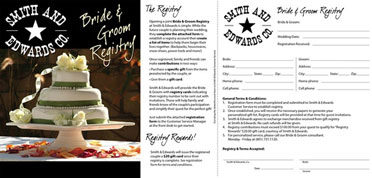 Wholesale Inquiries
Yes, we offer our quality Western Tack for wholesale. Please contact Shaun to begin or manage your account.