Over the years, Smith and Edwards Co. has been called a lot of names. And not what you think: these are names we get called by people who LOVE us. Terms of endearment.
Names like the BIG FUN STORE, Farr West Mall (or Plain City Mall), Smitties, Buck Brothers, The Cowboy Store... Even Smith & Edwards' Surplus Plus!
More than once we've even heard someone on a law enforcement scanner heading over for a fun stop at "Smutt & Ugly's" (Don't ask us how they came up with that one).
What's your family's name for Smith & Edwards? Send us an email at help@smithandedwards.com and let us know!
Smith & Edwards' History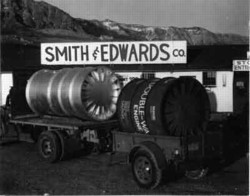 In 1947 Bert Smith and Lawrence Edwards began selling U.S. military surplus out of Bert's backyard in West Ogden. As shipmates serving together in the Marine Corps during World War II, Bert Smith and Lawrence Edwards became good friends. Towards the end of the war, Bert and Lawrence were told that the military had decided to dump jeeps and tanks, bulldozers, and all kinds of equipment into the ocean, since it would be impossible or unfeasible to maintain after the war. This experience helped set the stage for their soon-to-be business venture.
Upon returning home to Ogden, Bert discovered that the nest egg he'd acquired from the sale of his truck fleet before departing for the Marine Corps was still intact. His wife, Amelia, had saved every penny of it, getting by on government pay of $85/month while Bert served in the Pacific. She was the real hero of the business, letting Bert use all of their accumulated savings when he returned to buy surplus materials.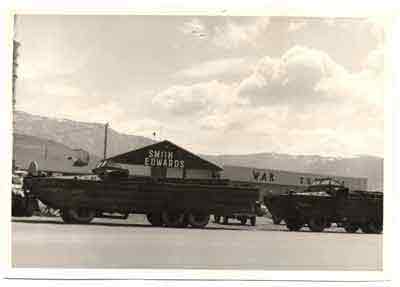 Surplus was easy to buy and sell; there was lots of demand for everything from trucks, trailers and tanks to four-wheel drive armored cars and halftracks. Lawrence was a great salesman; he could sell anything that had value. The day Bert bought his ranch in Nevada was the day Bert and Lawrence became partners in Smith and Edwards. Lawrence stayed in Ogden to run the Store while Bert built the Ranch.
A Time for Change
As business increased, so did the need for space and product. In the mid '50s, Bert purchased a 60-acre piece of land north of Ogden, where he moved the company to its current location. Bert rapidly filled this new site with spectacular surplus buys. One purchase, in particular, had a tremendous effect on the future of Smith and Edwards. In 1962, Bert purchased a large lot of Navy mooring buoys.
Each buoy measured 58 inches in diameter, weighed 680 pounds, and held 442 gallons of liquid. Combined and stacked the 13,418 buoys covered several acres of land. It took Dell Funk and his children twelve years, with a truck and trailer hauling nearly every day, to move the buoys from the Navy base in Clearfield (now the Freeport Center) to the Store. Bert saw tremendous opportunity in these rugged steel spheres; Lawrence's reaction was to say to Bert, "You're too wild for me, let's divide the business!" Lawrence Edwards took the Sunset Store and called it L.A. Edwards Surplus. Bert kept the main store at the Hot Springs, north of Ogden, and kept the original name, Smith and Edwards. The two divided assets and parted as very good friends.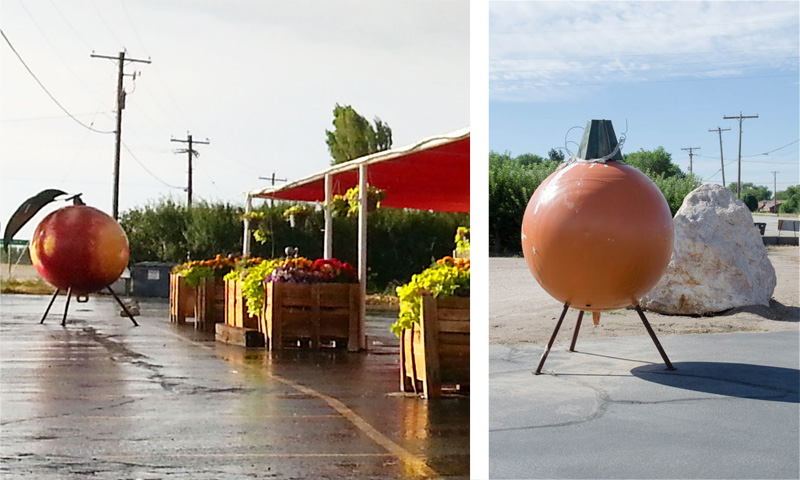 You can still find these buoys in local yards and businesses, like Pettingill's fruit stand on the Fruit Highway, Highway 89 - check out our visit to Pettingill's here.
Note the large stack of buoys (far right) and the old John Deere tractor dealership, once owned and operated by Jim Smith, immediately left of the buoys.


Smith & Edwards aerial view on July 1, 1969
Jim Smith: Moving Forward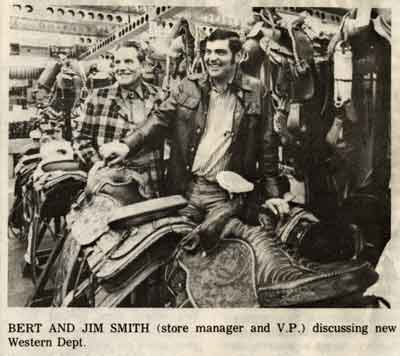 Bert and Jim featured in the ASD Profit News, February 1976.
The evolution of Smith and Edwards was dramatically altered in the late '60s with the full time employment of Jim Smith. Both Bert and Jim shared a passion for hard work and integrity. Jim managed the Store; Bert did all of the surplus buying. Together they expanded the product lines into commercial goods. Early in the business, with a shortage of display cases and lots of inventory that wasn't very well organized, the slogan was born, "We have everything you want, if we can find it."
Today the business is over 90% commercial goods and less than 10% surplus. Bert always sees some value in everything and his motto is still, "It's not what an item is, but what can it be?"
Regardless of the tremendous competition from big retail stores, Smith and Edwards continues to grow and evolve. The combination of originality, sincerity, independence, and local ownership has certainly added to the company's continued success.
An important underlying theme contributing to the success of the store is Bert's passion for the U.S. Constitution and the nation's Founding Fathers. Over the years, he has distributed millions of copies of the pocket Constitution and continues to teach customers everyday about the principles of freedom and liberty.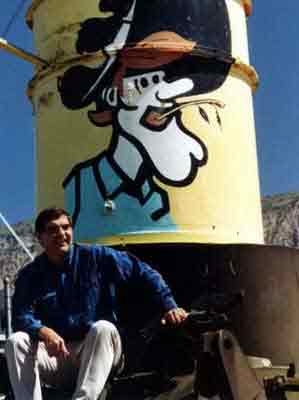 Jim Smith, Early 90's
Jim, company president, sitting on the old WWII retriever tank that has distinctly occupied the store entrance.
The Jim Smith Memorial Scholarship commemorates Jim's dedication to the Ogden Pioneer Days Rodeo and youth farm & ranch events throughout the Utah area. The scholarship is open to rodeo, FFA, and 4-H high school seniors.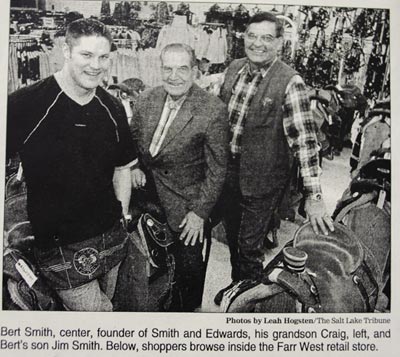 Mike Casey 1970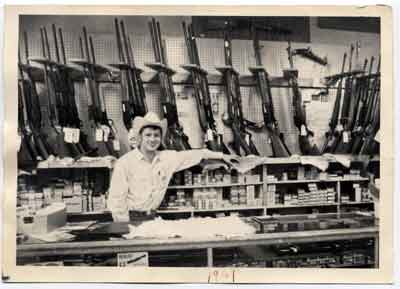 In January of 1970 Mike Casey came aboard to head the Sporting Good Department. Mike's passion and experience as an angler, hunter, and all round sportsman combined well with his leadership and sales ability.
Steve Smith OX Ranch Ruby Valley, Nevada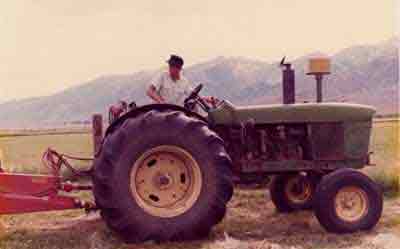 Steve Smith, the youngest in the Smith family, spent most of his young adult years working on the family ranch forgoing the retail experience. In the early Eighties Steve was asked to give up ranching and help build Smith and Edwards' Footwear Department. Preferring athletic shoes to cowboy boots, Steve quickly added an appealing variety of desirable merchandise.
Three Generations Strong: Craig Smith
Craig Smith carries on the family trade, leading the company as President since 2013.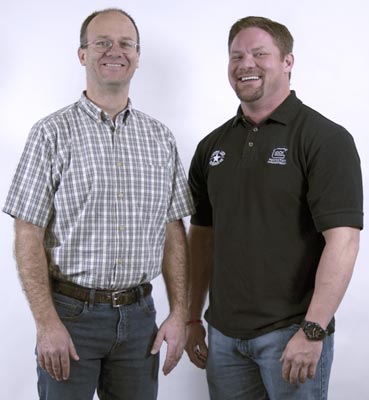 Kelly Parke, General Manager, and Craig Smith, President
Craig oversaw the addition of a Web Store to the Smith & Edwards experience, the addition of a Garden Center, and the expansion of the Customer Service area at the front of the store.
Today, Smith and Edwards is three generations strong. Bert Smith's children and grandchildren continue to work for the business and making their contributions to its continued growth... as they raise the next generation.
Smith and Edwards employs over 100 associates, continues to support local youth rodeos and events, and has matured into one of Utah's unique destination retail experiences.
Departments within the 171,000 square foot store include Western tack sales and manufacturing, Western jewelry, clothing, coats, footwear, hunting, fishing, marine, water sports, toys, housewares, hardware, automotive, paint, U.S. and international military surplus, camping, backpacking, climbing, caving, search and rescue, emergency preparedness, and an extraordinary selection of dutch oven cookware.
This is all in addition to the sixty-acre yard, which is filled with a huge assortment of military surplus... the "scrap" that started it all.