Smith & Edwards' History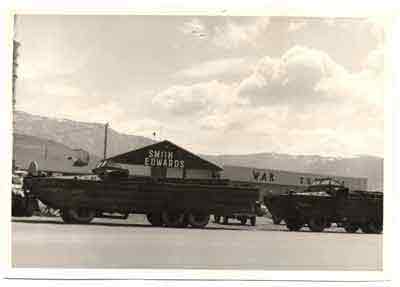 Smith and Edwards's humble beginnings began in 1947 in the backyard of Bert Smith's West Ogden home. He and his Marine Corps shipmate, Lawrence Edwards, started the surplus business after serving together in World War II. Prior to leaving for the war, Bert was forced to sale his construction truck fleet. His wife, Amelia, saved the income from the sale and lived solely on Bert's government pay. Upon returning from the war Bert used the savings to finance the startup of his new business venture. Smith and Edwards was born.
A Time for Change
As the business grew more space was needed. In the mid 1950s, sixty acres were purchased in Farr West. This would become the company's permanent home. The new space was quickly filled with surplus. As the inventory grew, so did the need for merchandising the product. As a result the infamous store slogan was born, "We have everything you want, if we can find it!"
In 1962 Bert purchased a large lot of Navy mooring buoys. Each buoy measured 58 inches in diameter, weighed 680 pounds, and held 442 gallons of liquid. Combined and stacked the 13,418 buoys covered several acres of land. It took twelve years to move the buoys from the Navy base in Clearfield (the Freeport Center) to the Farr West location.
Bert saw tremendous opportunity in these rugged steel spheres while Lawrence did not. The two decided to end their business partnership, but remained good friends that continued to support each other through the years.
Smith and Edwards lost its founder March 31, 2016, a month shy of his 96th birthday. Bert was still active in the business and his constitutional work until his passing.


Smith & Edwards aerial view July 1, 1969.
Pictured above: On the far right is a large stack of the mooring buoys. To the left of the bouys is the old John Deere tractor dealership, once owned and operated by Jim Smith.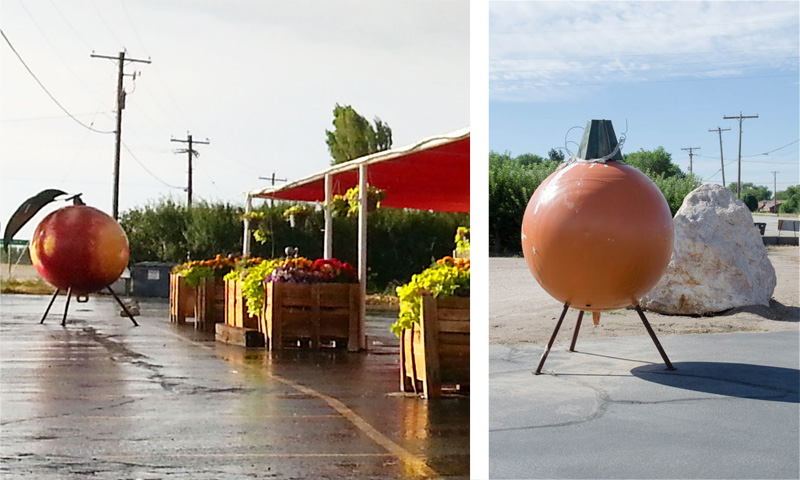 Pictured is a creative use of the buoys at Pettingill's Fruit Stand in Perry, Utah.
Building a Team
Smith and Edwards was dramatically changed in the late 1960s with the full-time employment of Bert's eldest son, Jim Smith. Jim shared his father's passion for hard work. Jim was the store President and CEO for over 50 years.
Under his leadership the store transformed into much more than a surplus store. Jim's impact was far reaching. It was under his direction that the store broadened product lines, began a partnership with Ace Hardware, and expanded the Farr West location. Jim's background in ranching, agriculture, and rodeo helped build the western department and later the western wholesale department.